Here are some of my hand drill engraved portraits going back to when I first started engraving in 2013.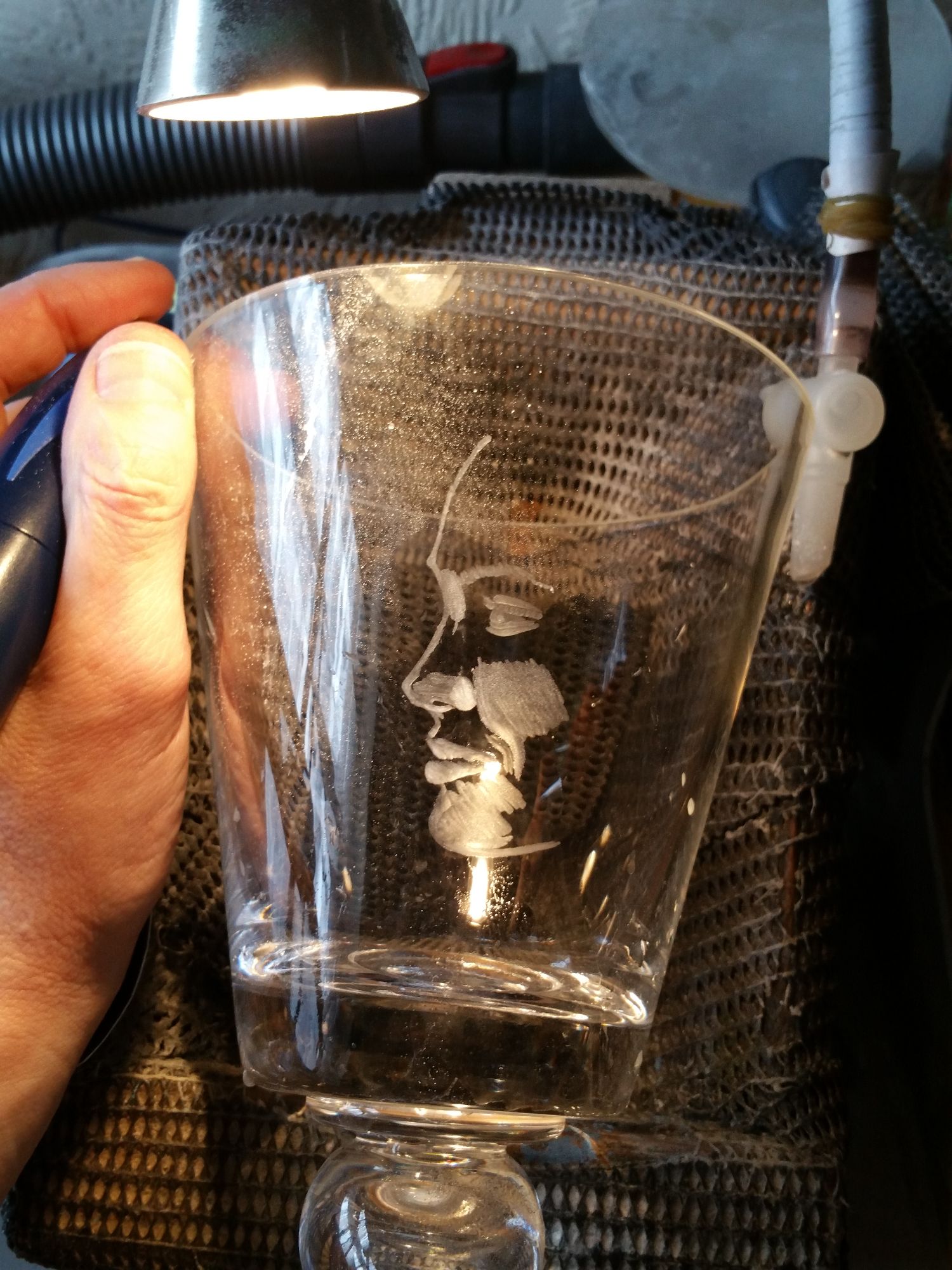 Here you see the start of a hand drill engraved portrait on a Dartington Crystal vase.
First of all I will draw an outline of the face using a glass marker pen before going over it roughly with a diamond drill bit to mark it out permanently.
After marking the outline I will start to carve out areas of the face in hollow relief so that the image is below the surface of the crystal, this is better known as Intaglio engraving.
Once I am happy with the depth of all of the facial features such as the nose , the eyes, the cheeks and the chin I will start to carve in other details such as the eye lids, nostrils and lips

There's no such thing as a glass rubber!
The engraving will look very irregular at this stage but once the whole of the face has been cut away I will then start on smoothing out all of the areas with diamond and stones burs.
All the while upmost care is taken not to go out of the outline of the face as once that has been done there will be no going back.
There are no such things as glass rubbers so if the outline has been breached or the depth of the engraving is too deep in any of the areas it may not be possible to keep a good likeness

Engraving the face is almost finished but there are a few things to do before moving on to the rest of the engraving.
Once the areas are smooth enough and I'm happy with how it is all looking I will then move on to the shading.
Shading the areas around the eyes, nose andother features of the face will increase depth and also make a more realistic looking portrait.
There has been more work on this engraving since I took these photographs but I may not reveal the rest for some time as the person it was engraved for has not yet recieved it. It's a long story which I hope I will be able to tell one day.
I engraved this graduation portrait onto a piece of optical crystal 15cm wide by 3.3cm thick and weighing 1.25kg.
The whole image is hand drill engraved and took between 10 to 12 hours to complete.