When Vicar Fr David Stephenson came to talk to me about an engraving commission for baptismal bowls for the two local churches, St James Parish Church, Haslingden and St Thomas Musbury, Helmshore, I was very excited as I knew it was the perfect engraving job for me.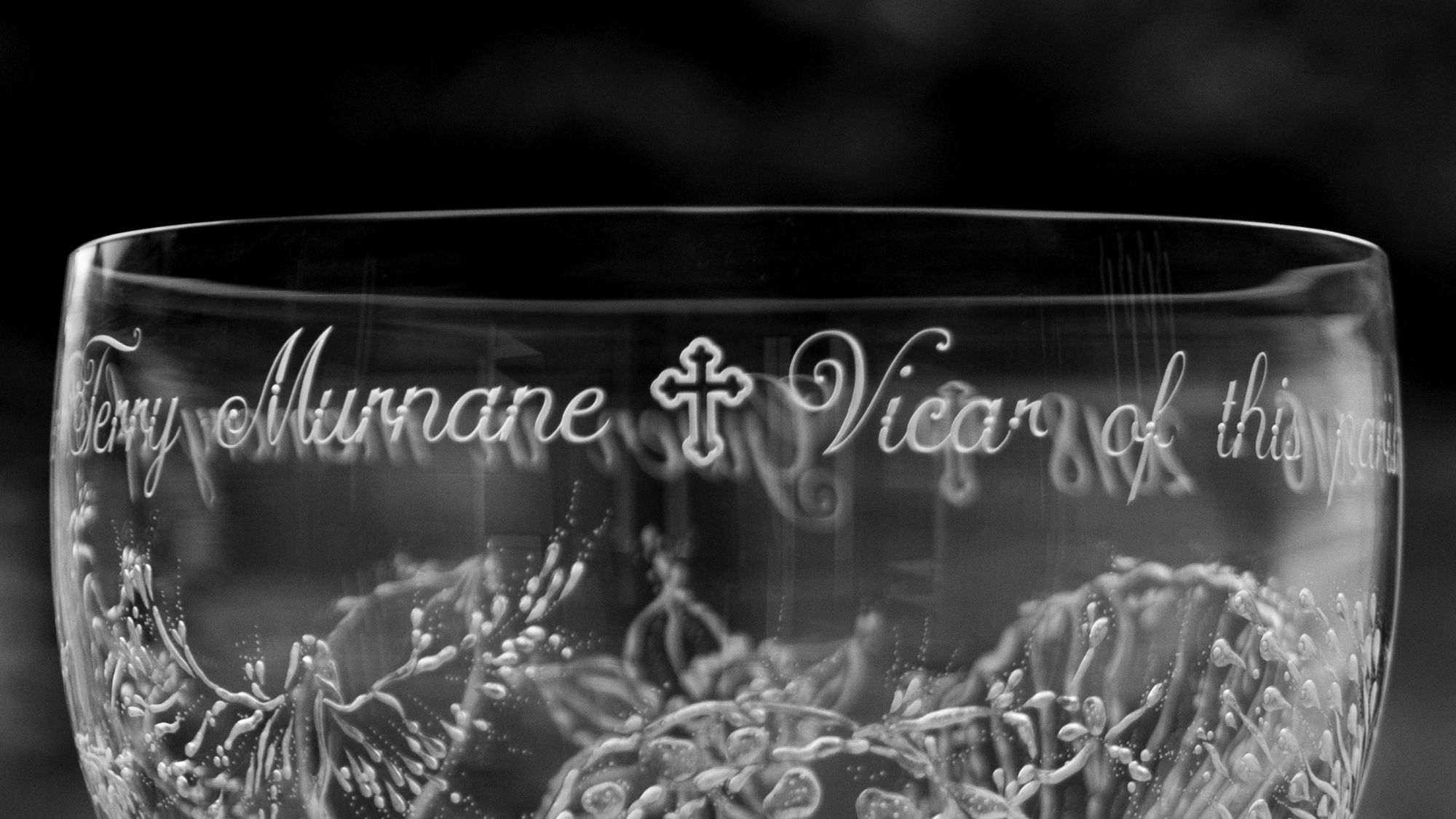 We sat and discussed the engraving that might go on to each bowl for some time, deciding that there would definitely be baptismal related images along with a dedication to Fr Terry Murnane the local Vicar of the parish who sadly died last year.
The dedication to Fr Terry would be on both bowls with lots of symbolism which would remind us of him and also have a great deal of meaning for baptism.
Before I could start designing the the bowls I needed to decide on which size and shape of bowls I would use. The bowls would need to fit in with the shape and depth of the stone fonts so I had to look at all of the options.
One option was to have bespoke bowls hand blown to fit he shape of the fonts but that would have been expensive on its own and would have taken up too much of the budget so my second option was to purchase two ready made bowls which I could use as a blank canvas for the engravings.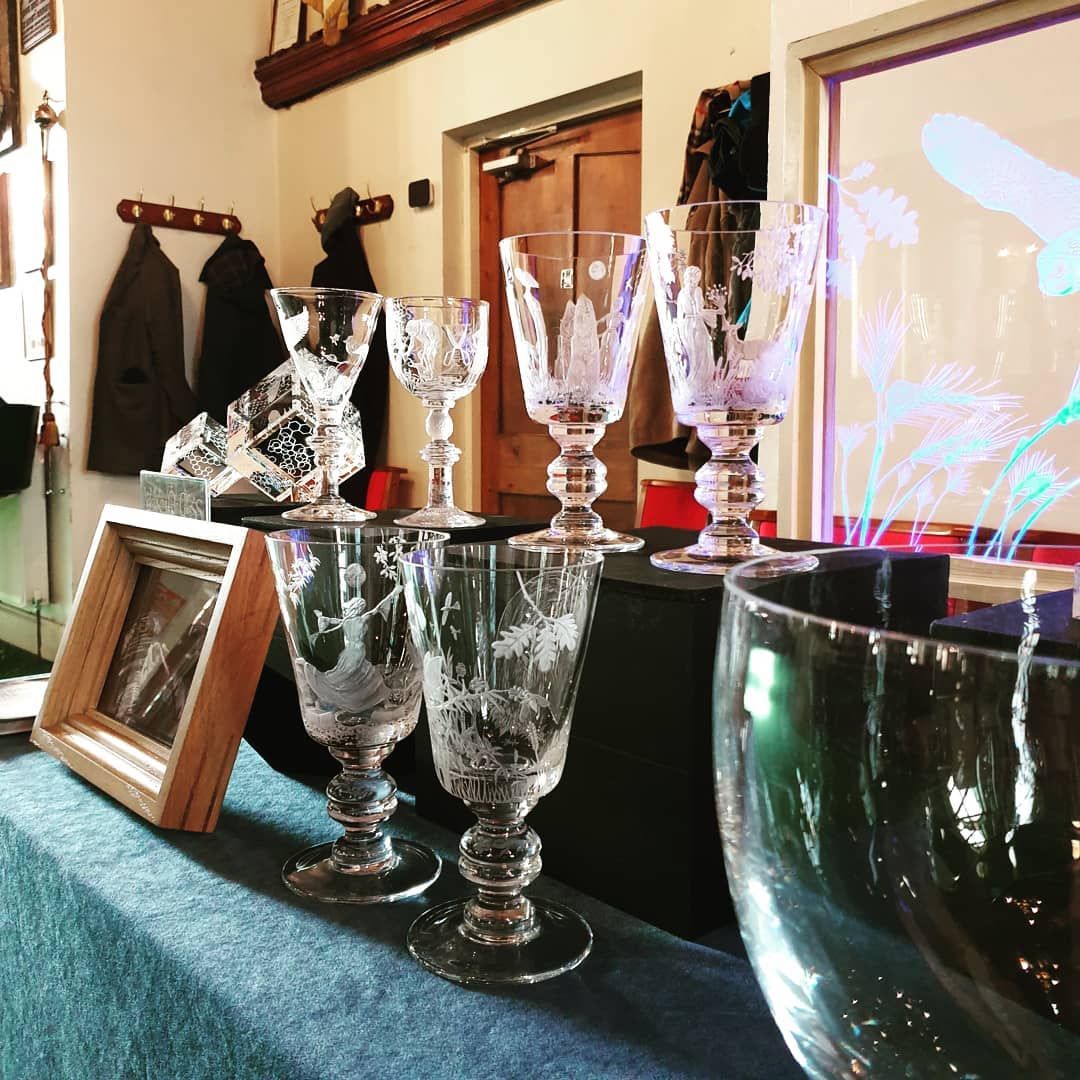 On Sunday March the 10th I visited both churches and put on a small display of work to show parishioners the quality of my engraving and also to get some more ideas for the design and to show them some of the sketches I had alreadymade for the St James bowl.
At that point I had no idea what the St Thomas bowl would look like, only that it would be different from the St James bowl, so I was looking for a little inspiration on that.
The two bowls that I had settled on using were very large and I realised that I would have to do a lot of extra engraving on them both as the commission budget although it was good would leave them quite bare. I was pleased to be able to contribute something of my own in that way which would enable me to create a really fabulous design on both bowls and also to ensure that I did something I would be extremely proud of.

After many emails to and fro to Fr David Stephenson we decided on the symbolism to go on each bowl. There had to be Daffodils as Fr Terry was Welsh and Fr David also told me that he loved Celtic crosses so they also had to feature on them somewhere.
Fr Terry's wife Cheryl wanted a Dove so I made sure that there was one on each bowl too.
The Symbolism for Baptism
Other symbols included a Candle & Flame representing the Holy spirit, a Peacock and Butterfly representing resurrection, the Christian fish design, The lamb of God, a Clam Shell which the vicar uses to baptise along with a Ladybird.
I decided that the St James bowl was to be engraved in a Traditional style of engraving featuring six cartouches in the shape of three diamonds and three ovals with the various symbols engraved inside of each one. Four small daffodil heads would adorn the corners of each cartouche with a water wave design between each one.

Below are a couple of sketches to compare with the engravings. The photo quality is a little poor as these were taken during the engraving process when the bowl was on my work bench.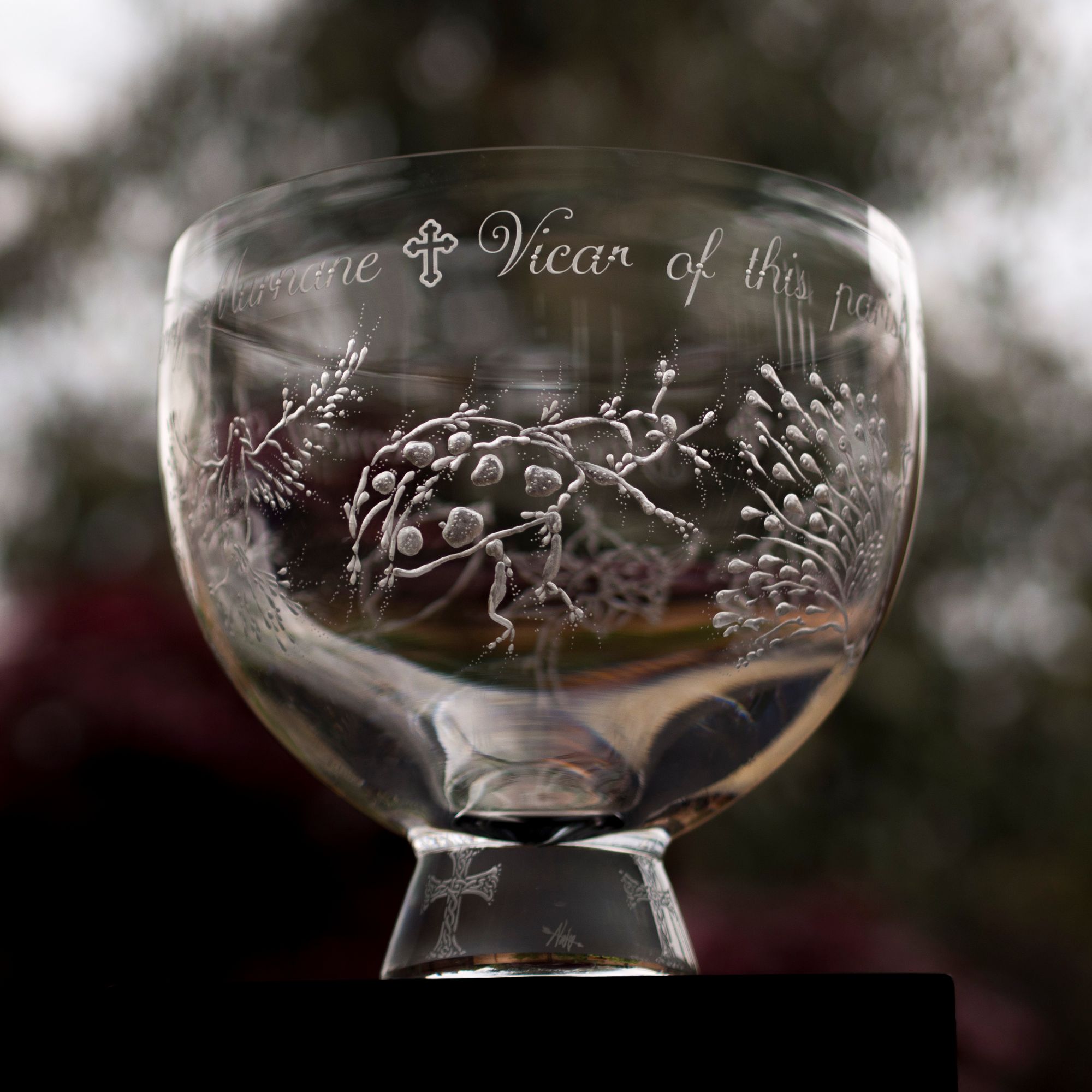 The St Thomas baptism bowl would be of an abstract water design relating to the water of baptism with all of the symbolism in the style of deep engraved water splashes engraved in layers.
The style and shape of the bowls that I used were in keeping with the shape of the fonts and are large enough so as not to look lost and allow the engraving to be seen from all angles.
After all of the designing had been done each bowl took around 2 weeks to engrave and so it worked out that I just managed to complete the engravings on both in time for the services on the 28th April when Bishop Philip North blessed them with oil and water.
Below are a few images taken just after the service at St James Prish Church and St Thomas Mubury with the oils and water still in the bowl.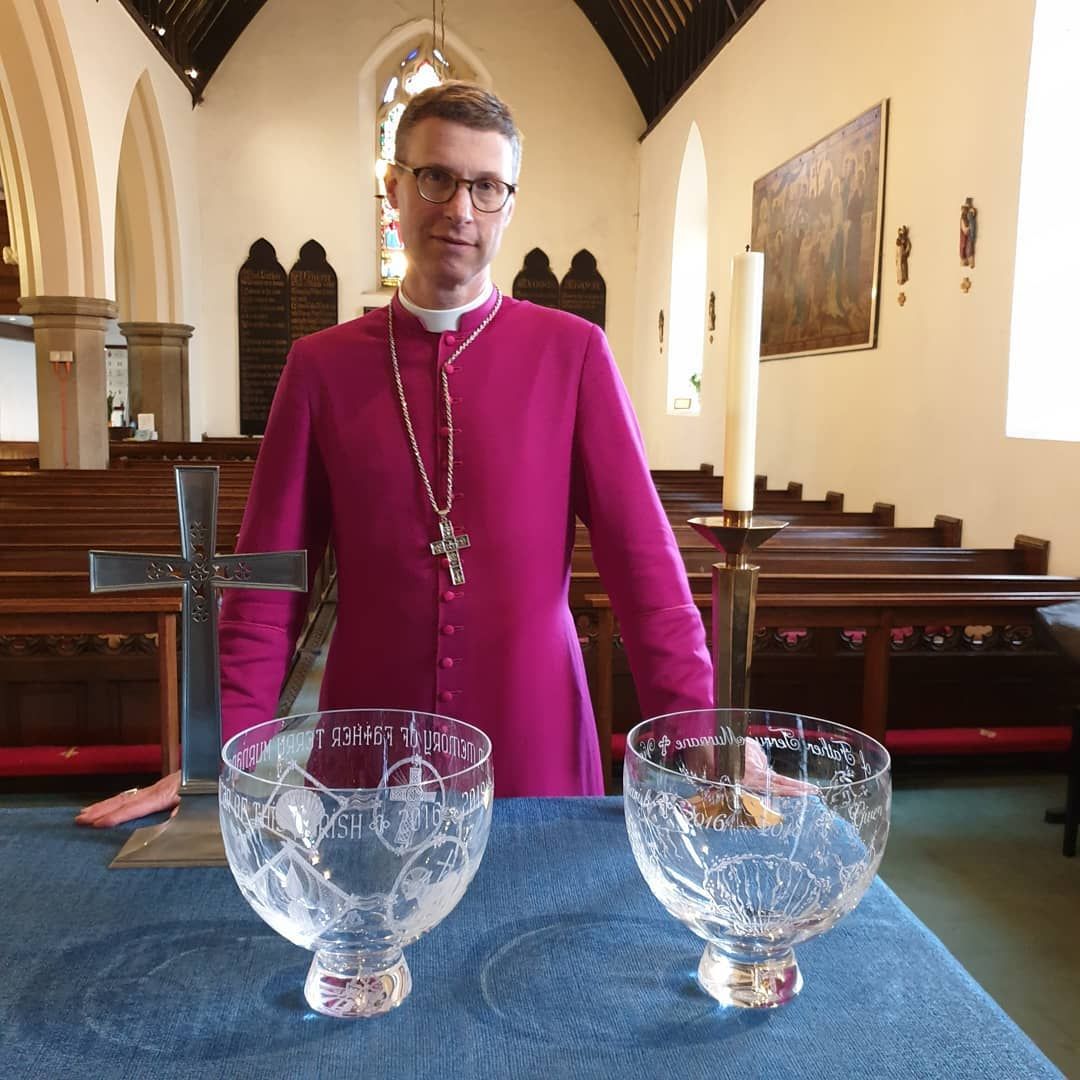 There was a quick photo shoot for the newspapers after the services so I took the opportunity to take a few photos of my own of the Bishop of Burnley Philip North and Fr David Stephenson with the bowls at St Thomas Musbury.
I was thrilled to be invited to at St Thomas Musbury afterwards for the church lunch where I was privileged to sit next to Fr Terry Murnane's brother Eugene who is a very interesting and lovely man to talk to.
A little girl named Daisy was the first person to be christened a week later on Sunday the 5th of may 2019.
It's a wonderful feeling to know that pieces of my work will be used in baptisms and christenings of many over years to come and I thank the people of Haslingden and Helmshore for trusting me to create for them a lasting memorial to a much loved Vicar of this parish Fr Terry Murnane.