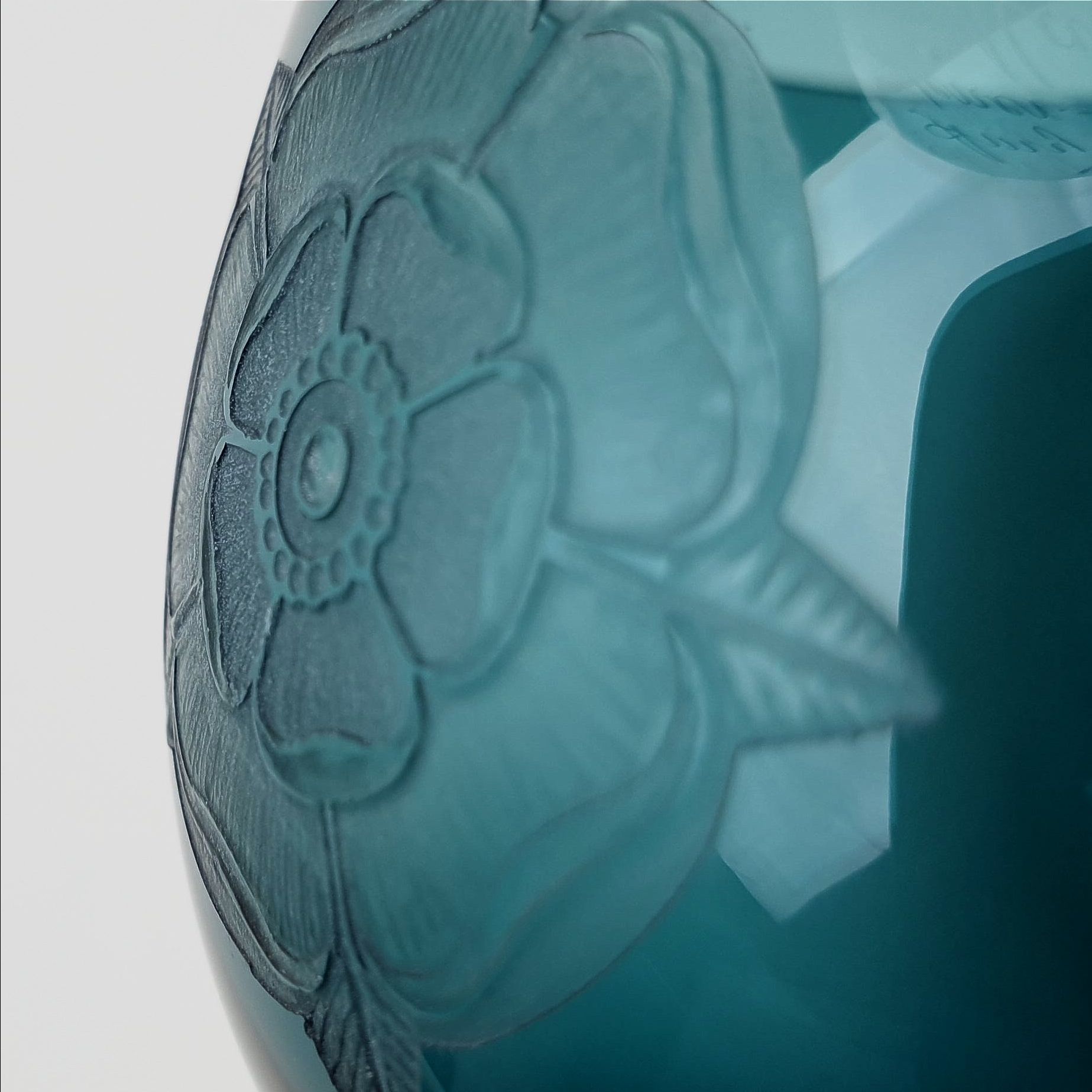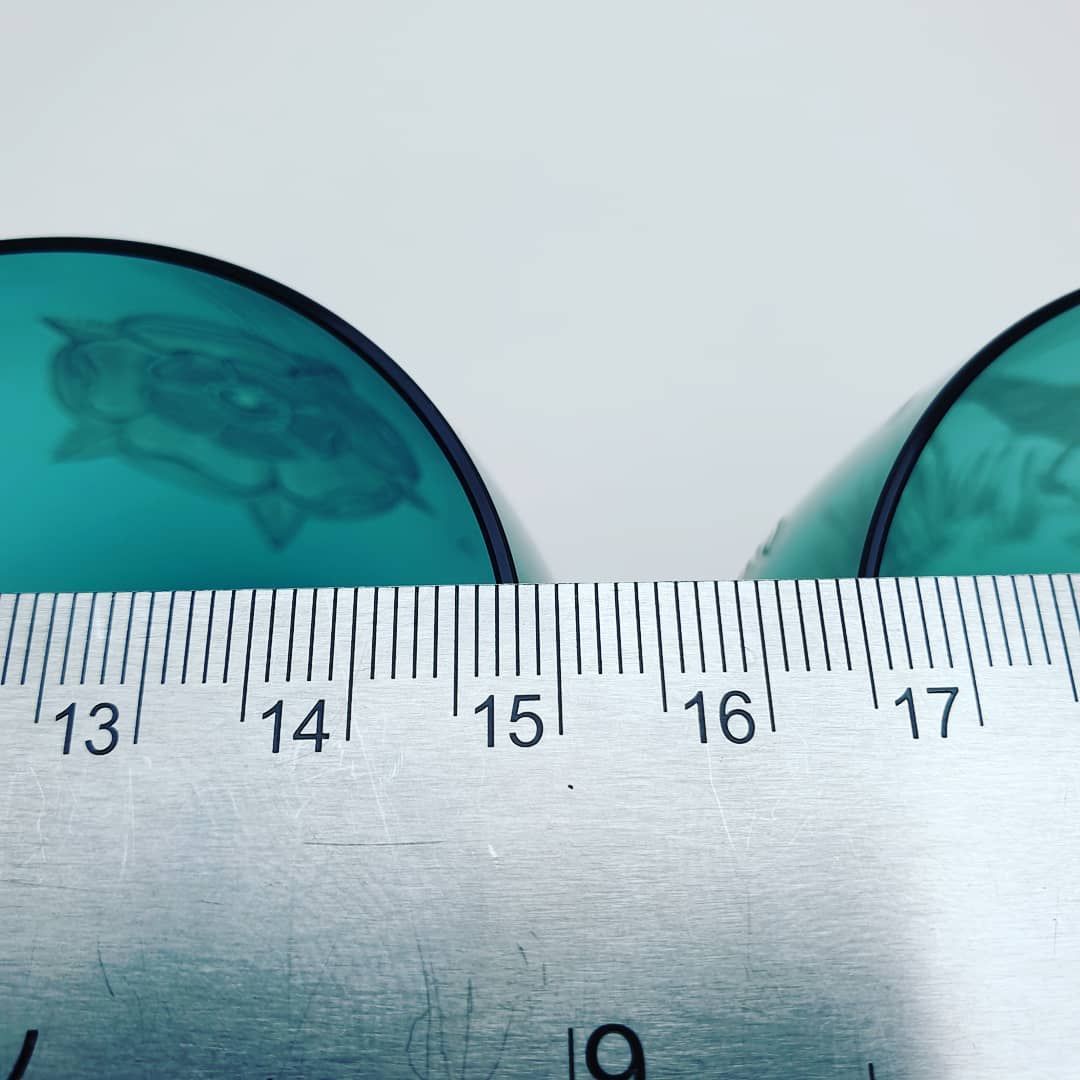 Before I tell you more about these vintage wedding glasses and what I engraved on them I would first like to tell you about the difficulty of engraving on them by hand.
These vintage glasses are only 1mm thick and you would think that they would be far too thin to engrave them, but they're not.
I would like to tell you a bit more about my days as a Dental Technician which should help to explain why I didn't find it an impossible task but I wouldn't say it was easy, just not as impossible as you would think!
For 32 years as a Dental Technician I would hand grind tiny copings with a dental drill. Copings are the metal substuctures that you find inside Metal Ceramic Crowns or VMK's as us Dental Technicians know them.
VMK actually stands for Vita Metal Keramik. Keramik being the German word for Ceramic. This was the name for the first metal ceramic system developed in Europe for crown and bridge work using materials by Zahnfabrik and Degussa.
A long time ago teeth would have been made from ceramic or porcelain but the teeth I made from the age of 17 were actually constructed from powdered glass baked onto metal in a tiny furnace using VMK and other systems.
As I was saying earlier I would hand grind the metal copings, they would be trimmed down to a thickness of between 0.3 and 0.5 of a millimetre using the dental drill. I would carefully measure around the copings with a pair of small gauges to make sure that they weren't too thin, constantly checking and trimming a little more until they were the right thickness. When constructing teeth you need as much thickness of porcelain or glass to achieve the best possible tooth colour letting as muchlight through as you can.
I guess what I'm saying here is that the skills learnt as a Dental Technician over all of those years have carried over to my new career as a Glass Engraver and modeling tiny teeth to accurately match the rest of the teeth in a patients mouth, constructing tiny metal implants and other dental appliances all done by hand has helped greatly in keeping the quality of my of hand engraving high.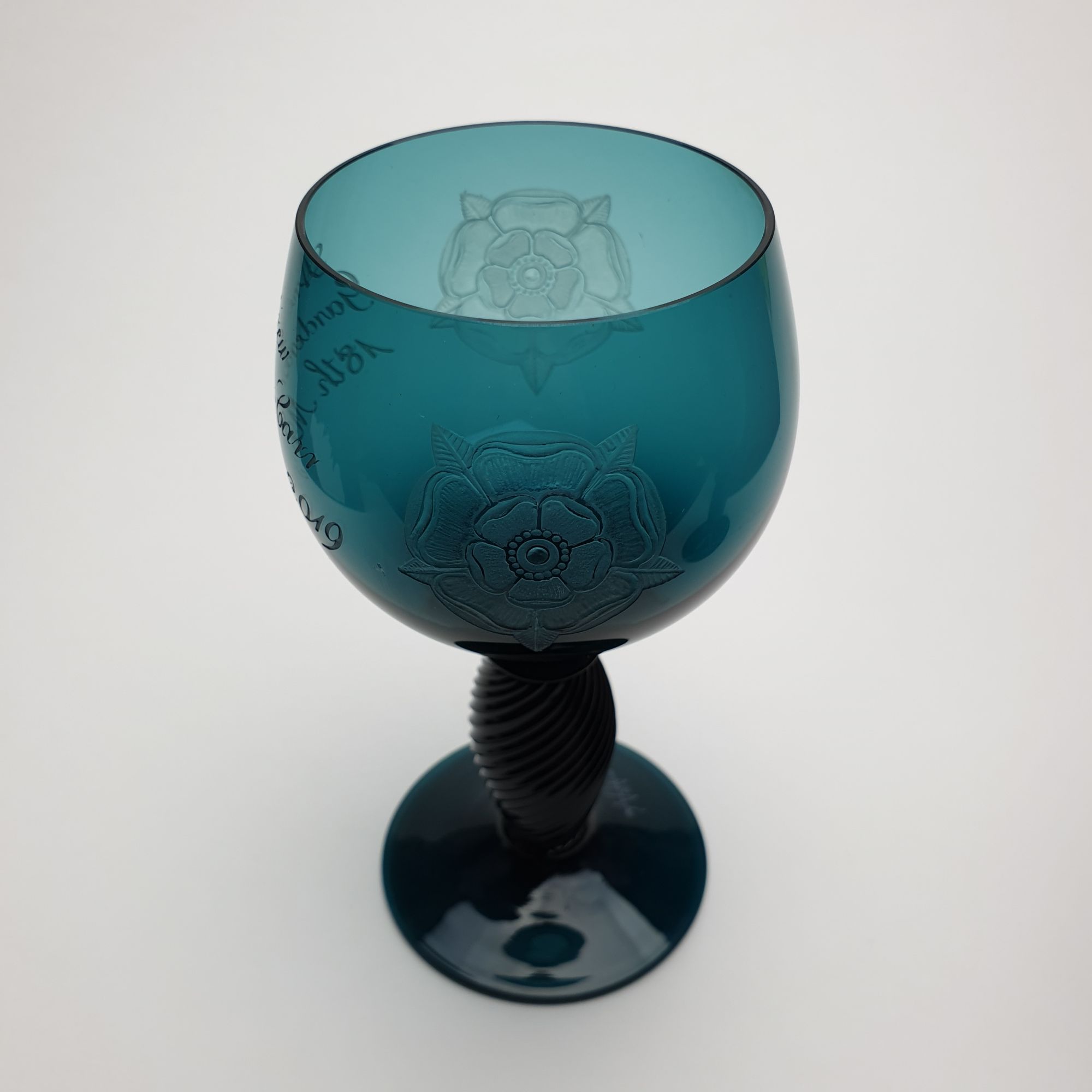 You would be surprised at the amount of detail and depth you can achieve on a glass only 1mm thick.
This is one of a pair of very unique commissioned wedding glasses that I engraved last year.
The glasses are very delicate vintage wine glasses and although you see the odd set when looking around antique shops there aren't that many about. They may have stems with a slightly different twist or the colour may be alot deeper making them really hard if not completely impossible to replace and that puts a lot of pressure on me to make sure that there are no mistakes at all. This was made especially so as in this case the glasses were posted to me from my customer who wanted something very unique and special to give to her future Husband the Groom as a gift to themselves on their wedding day; something that they can keep to pass down as an heirloom to their children in later years.
Apart from the inscription on the front this glass I have also engraved two Tudor roses, one rose on each side of the lettering which is on the front.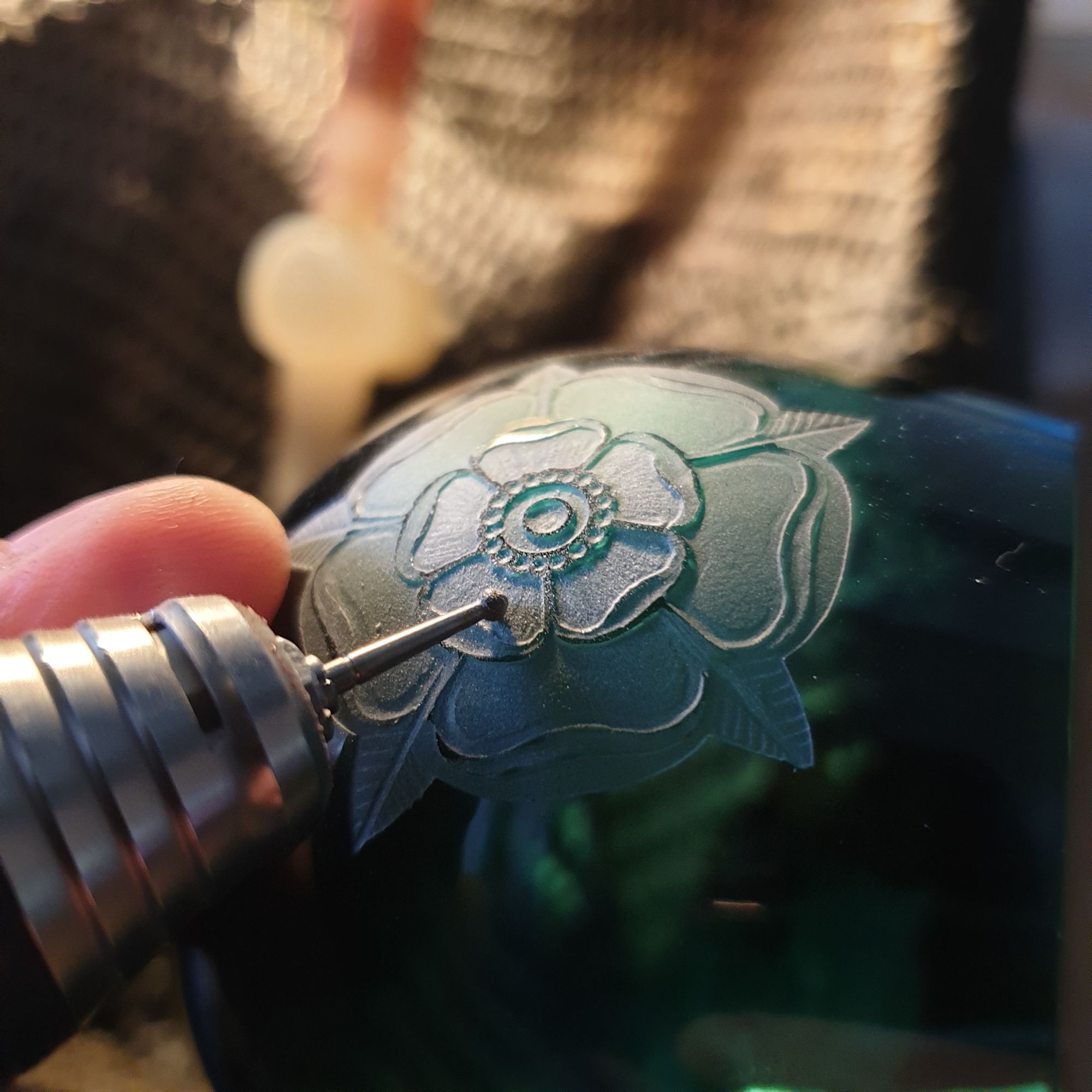 Delicate engraving of the Tudor rose
In the images here you see the use of a diamond bur to cut away the glass.
For an idea of scale the Tudor Rose is only around 3cm in diameter so the detail is tiny.
Shading and polishing using a hand drill
Here I used a rubber bur to polish areas back to clear which would then appear darker.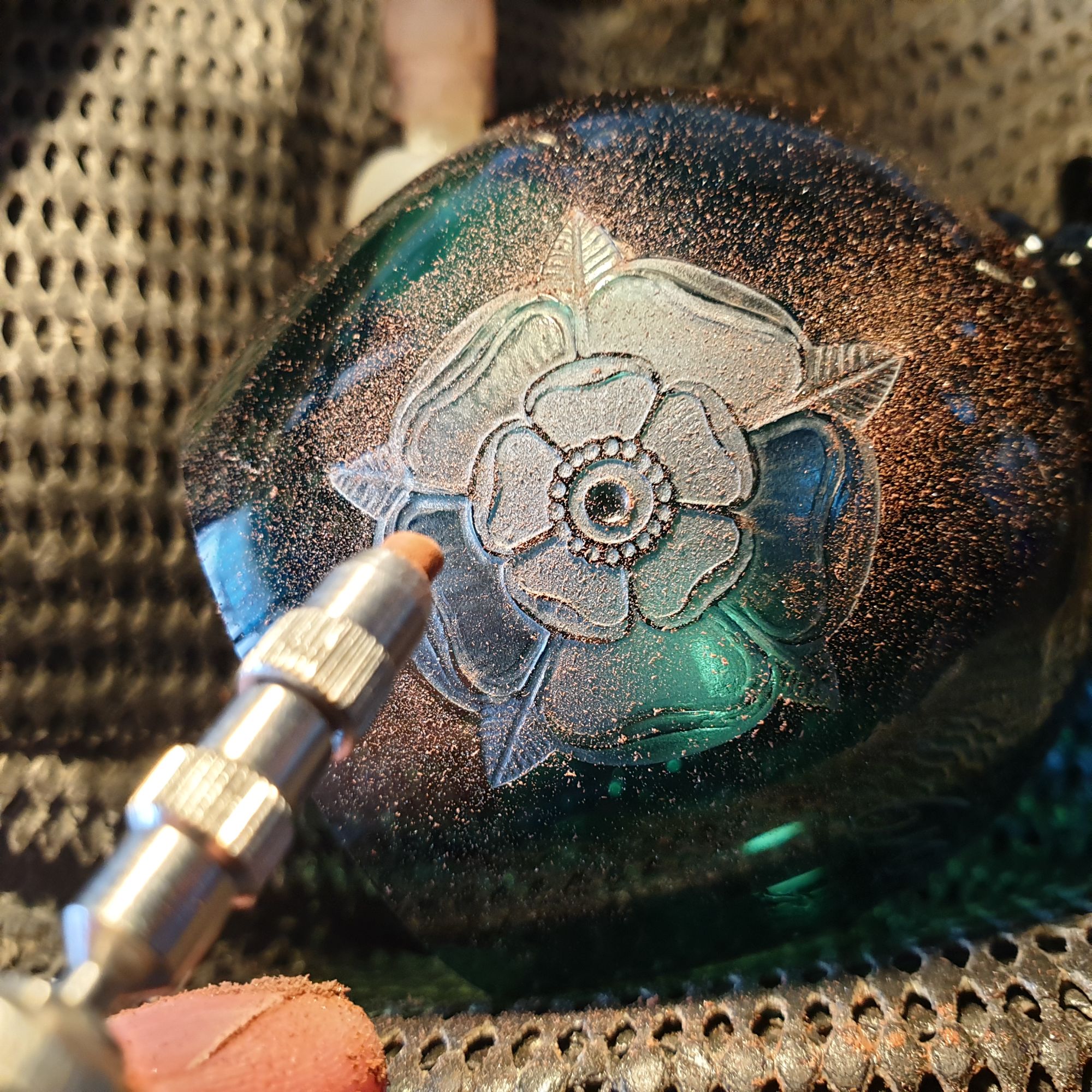 My customer wanted Tudor roses engraved on her husbands glass and Pheasants engraved on her glass
I was asked to engrave two Tudor roses on the grooms glass and two different pheasants on each side of the glass for the bride.