Ramsbottom Dimple Base Whisky Tumbler
---
Ramsbottom Dimple Base Whisky Tumbler
£45.00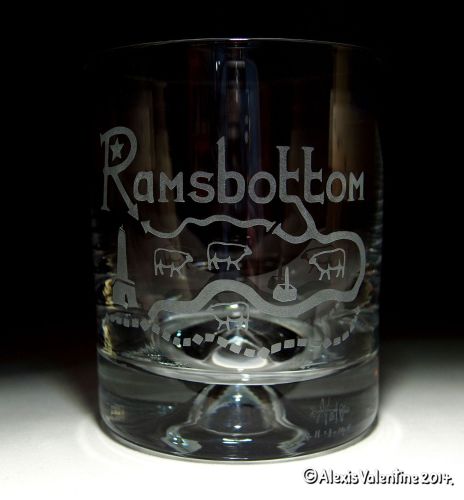 Ramsbottom Dimple Base Whisky Tumbler
I love to walk up to PEEL TOWER especially on a Good Friday where I will usually do an 8 Mile walk around the ROSSENDALE VALLEY along part of the IRWELL SCULPTURE TRAIL, by the side of the Railway Line, through IRWELL VALE to SNIGHOLE at HELMSHORE...then it's up through Alden Rise past Robin Hoods Well and the place where Ellen Strange was Murdered by her husband John on 26th January 1761. After passing the cairn marking the spot it's off to the the famous Peel Tower a monument to Robert Peel who was responsible for the creation of the concept of the modern police force which lead to a new type of Police officer known as "bobbies" (in England) and "peelers" (in Northern Ireland). Then is off down the hill to Holcombe Village, past the Church and down the 'Rake' (Famous for the Cycling Hill Climb in October) to Ramsbottom for a Pint in one of the many Beer Emporiums at the end of the Walk.
The Glass is Engraved with Holcombe Tower overlooking the River Irwell flowing below it. The Irwell flows past a Cotton Mill... something Ramsbottom is famous for.
If you're from "Rammy" or "Tups Arse?" as It is known by Locals in the Know will understand why there are a few Sheep dotted around.
Fill it with your Favourite Scotch or Mixer Drink
...or have it "On the Rocks!"


You can Buy these at the ARTISAN MARKET RAMSBOTTOM on my stall!